September always feels like a shock. Someone recently described it to me as being shot out of a canon every time and I 100% agree. It's been a busy week starting to teach again and also finishing up a new review for @giselle by Joshua Beamish (stay tuned… will be published soon) but I saw a really great show last night and must tell.
"Conduit" is a contemporary dance show involving seven performers presented by the The Body Orchestra, a collective formed by Jenn Edwards (based in Toronto) and Jennifer Aoki (based in Vancouver). This past week I had the pleasure of taking professional class with Jenn Edwards, choreographer of the show, at the Training Society of Vancouver and sample the movement style that gives this show its true flavour. It's an interesting mix of release-based floor work and technical contemporary-modern, blended seamlessly together through weight exchange. It looks good AND feels good (a surprising and attractive combination).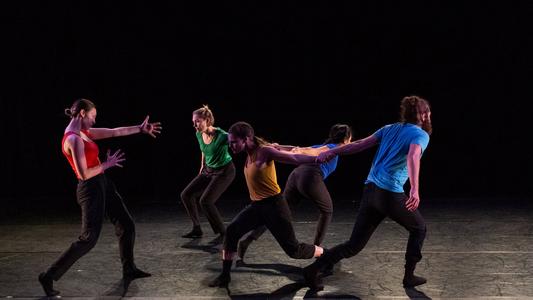 The evening is a triple-bill of twenty-minute works. The first, Imposter Syndrome (2019), is a quirky new piece developed over the past few months with residencies around Vancouver and premiering at the Vancouver Fringe Festival. The dancers show off their weirdness in this amusing work full of marching, gestures, formations and the occasional spoken text. Edwards highlights both the awkwardness of the individual (the failure of self-confidence) and the cohesion of the group through short vignettes and large group tasks. The dancers wind around the stage, staying connected in kind of elementary-school chain while attempting to fulfill choreography. Bright (and almost Shambala-esque) costumes keep the work lighthearted, but now and then we see deep and intense solo moments that reveal there is more going on beneath the surface.
Other Creatures (2017) opens with a fascinating duet between SFU grads Kayla De Vos and David Clennin. With pauses, eye contact, and small touches they seem to be discovering each other as another species. Short movement phrases end with De Vos spiralling away, untrusting. When the lights come up downstage and all seven dancers appear close together, wearing dark sunglasses, they launch into a gestural section that shows Edwards' keen eye in organizing movement. The dancers trace fingers along opening chests, lift sunglasses off and replace them, contract as they turn in waves and patterns with stone-cold faces that make me think of the Smiths in The Matrix.
Other Creatures is strong and satisfying in both movement and concept. Edwards' choreographic style becomes more eye-catching as it takes on animalistic qualities. At times, the dancers appear unsure of each others' intentions, crouched in lunges with arms outstretched, turning back and forth like weather vanes. In a hilarious moment, the eerie and brooding soundtrack cuts out completely, leaving the dancers in the aftermath of a rave or party. They clutch at each other with half-dazed smiles, gently bouncing along to music that sounds far-away. The tension built up over the entire piece seems to break open in that moment and we are left with a bizarre visual of the human condition– what kind of strange creatures are we? When the dancers separate and finish the work standing separately, black sunglasses and solemn expressions we have our answer: unfathomable.
In the final work, Conduit (2016), dancers arrive onstage in duets instructing each other in musical partnerships. They count out loud and physically readjust each others' shapes, but there is no sense of manipulation. Rather, the close bond between the group is apparent– I pause here to say it is such a pleasure to see so many dancers onstage in a city where large numbers are rarely achievable due to funding. It's thrilling to see group choreography come alive, and this is where Conduit finds its true force. A motif of the dancers "conducting" each other keeps coming back in new and interesting ways, and Edwards uses the offstage space intentionally to split the focus and direct the viewer's eye to individual moments. 
Overall I left The Cultch feeling full. In my heart, that sort of satisfaction that comes from watching strong, beautiful dancing and work that is unafraid to ask questions, point fingers and prod at the messy stuff of our existence.